A day in the life of a scientific writer and content creator
Every career path in neuroscience can be different. Written as a Guest Blog for the British Neuroscience Association BNA, we hear from Dr. Laura Pozzi, our scientific writer, an insightful and inspiring account of her daily life at Atlas Antibodies. Read about the skills and her 3 tips for you to succeed in this job. Enjoy reading!
Do you feel excited when it's time to edit your manuscript? Or to summarize 3 years of experiments in one-page abstract? Do you love putting together the slide decks for the lab Journal club? Do you spend hours designing the posters for the upcoming conference? Making schematics and color-coding the text? You get the picture, right?
Then you are fit to pursue a career in scientific writing with a marketing twist! Or, at least, that's what happened to me! Interesting right?
Don't get me wrong! I spent over 15 years in the lab, and I loved every minute. But after my postdoc, I decided to take a different path.
Today I work as a Senior Scientific Writer and Content Creator for a Swedish Biotech company, Atlas Antibodies, located just outside Stockholm. I am a member of the marketing team, and when I started, I must admit it, I felt like a square peg in a round hole.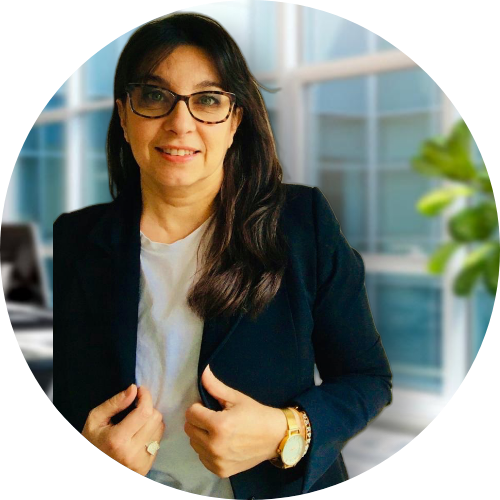 Photo: Laura Pozzi, Ph.D., Senior Scientific Writer at Atlas Antibodies.
A typical day at the office: there is more than just writing
Now you might wonder: what do you do daily at the office?
My job responsibilities include designing and writing documents about Atlas Antibodies' products (primary antibodies and control antigens) for various audiences such as academic researchers, Ph.D. students, postdocs, and young scientists.
It is rare to do the same thing for two days in a row. I collaborate with the R&D team to draft a new white paper one day. The next day I contact a researcher from my academic network for a featured interview on the company blog. Often, I spend hours designing a new infographic or updating the marketing material we'll bring to the next conference.
Ah, and don't forget the meetings! Sometimes it is one after the other for the entire day.
I also support the marketing team in creating and managing Atlas Antibodies' social media content on LinkedIn, Facebook, Twitter, IG, and YouTube. The aim is to share scientific knowledge, increase brand awareness, promote customer engagement, and ultimately drive web traffic and conversions.
There are days with a lot more stress when deadlines are approaching. But that is when focus and discipline kick in, and, to me, music is excellent to keep the momentum alive.
So, what are the factors that make my job exciting?
The science: I learn something new every day. My background in neuroscience is sometimes not enough when we discuss the latest antibodies and biomarkers relevant for other research areas such as cancer, cell biology, stem cell & development. So, I spend a lot of time reading research articles and the latest news about the topic.

The interdisciplinarity: it is not just the marketing team; I am part of a bigger squad. Most meetings are held together with Scientists from R&D, Project Managers, sales, and commercial savvy, especially around the days of product launches.

The flexibility: I only need my computer to complete my tasks. Now that the COVID-19 restrictions are lifted, I work from the office. However, if you have the possibility of working from your balcony gazing at the water of a cold Swedish lake (and your manager agrees), wouldn't you take the opportunity? I do!

The traveling: last but not least, I get to travel to represent Atlas Antibodies at international conferences worldwide. Next stops? The European Cancer Conference (EACR) in Seville, Spain, in June, and the European Neuroscience Conference (FENS) in Paris, France, in July. And more to come.
What do you need to get started?
Even if the job title is the same, skills may vary from company to company, and the skills you'll leverage will depend on each project.
However, these skills are essential for your success:
A scientific background (usually a Master's or Ph.D. level)

Effective written communication skills

The ability to understand and translate in simple words complex texts

The ability to set and follow deadlines

The ability to manage projects from concept-to-execution

Being a grammar savvy

Being comfortable with an interdisciplinary collaboration

A bit of creativity and adaptability
Do not panic! It takes time, but the advantage is that you'll learn by doing
My 3 tips for you
1. Start Early
Write and improve. There are plenty of free online tools that help you practice your writing skills. Just write. Write a blog, write a post. Share your science on social media. Summarize the results of your last experiment or describe your western blot protocol and how you have optimized it. You can also share the prettiest image you got at the confocal.
My experience: I started my social media accounts while working in the lab. In the beginning, my posts were just retweets or reposts of something that someone else wrote about a topic I knew about (neuroscience). And that is ok as a start. Then I realized I also had something to say, and my view was not so different from the someone-else-view I was sharing. So I started sharing my voice. You can do it too!
2. Trust Your Skills
The skills you have acquired (often on a boring raining Sunday) have a tremendous value. Take time to improve those skills by furthering your education: enroll in courses, and attend seminars or webinars. It's a win-win for everybody: it benefits you and your team. Don't waste time on things you have no talent for. If possible, just focus on what you're good at and bring it to work.
My experience: Day after day, as I grew in the role, I realized that I could use more than the science. Enrolling in illustration and graphic design courses has probably been one of the greatest decisions I have ever made. I only considered it an art-related hobby, though. I did it just for fun, but eventually, it became helpful in my career. So, if you are looking or applying for a new job, why not use some extra skills to design your CV? Be creative! For example, when I applied for my current position, I designed an animated CV, and I got the interview (and eventually the job).
3. Bring Your Network
The network you have created during your years in academia, the educational communities you belong to, and your university classmates are a significant well to draw from. They can give you feedback on a piece you wrote. Together, you can collaborate on a blog post. You can share and comment on their scientific posts to increase your mutual visibility.
My experience: Once a quarter, I interview a scientist from my network for a blog post on their recent research project. The blog is then posted on Atlas Antibodies' website (a series called "Interview with a Scientist") as well as shared on social media.
Now it's your turn!
What about you? What is your motivation, and which skills would you bring to starting a scientific writing career? Are you currently working as such? What motivated you to pursue a career in scientific or medical writing?
Share your thoughts with the hashtag #shareyourskills in a post or a comment.
You can DM us on Twitter, Facebook, Instagram, or Linkedin. Tag us @atlasantibodies!
This is a guest blog for the British Neuroscience Association (BNA).